ChatGPT has taken the internet by storm. The chatbot reached a staggering 100m users in just two months after launching. Therefore, it was to be expected that
Microsoft (NASDAQ:MSFT)
would put its $10bn investment in OpenAI to good use. Just this month, the tech giant opted to begin integrating ChatGPT into its long-forgotten search engine, Bing.
As a result, Google's parent company,
Alphabet (NASDAQ:GOOGL)
responded with its own chatbot, Bard. Unfortunately for the Mountain View-based company, its AI model churned out an incorrect answer to a question about the James Webb Telescope. Consequently, Alphabet stock fell by more than 12% in the following days, and lost more than $100bn of its market cap. Analysts and technologists who attended the event cited missing sources for information (unlike Bing's new chat feature), a lack of focus, and an absent roadmap to address ChatGPT's rise to prominence.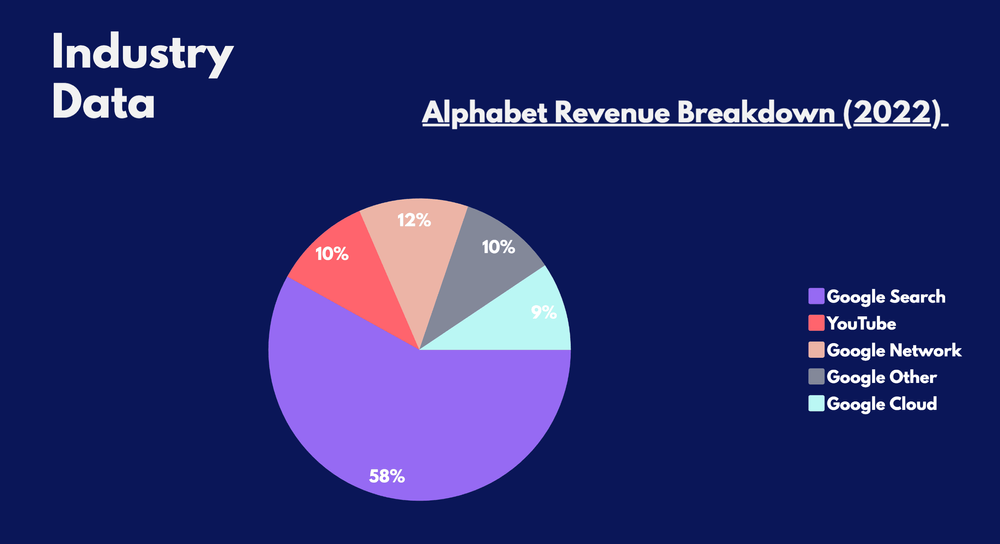 Alphabet revenue breakdown (2022)
All these points cumulatively translate into Alphabet's biggest fear — losing its dominance in search. This is because Google Search is Alphabet's main revenue stream by far, and commands more than half of its total profits. Microsoft CFO Philippe Ockenden said, "For every 1 point of share gain in the search advertising market, it's a $2bn revenue opportunity for our advertising business". CEO Satya Nadella even said that he's willing to risk demonetisation to hurt Google, essentially stating that they've got nothing to lose.
To make matters more difficult for Google, it may potentially have to compete with Microsoft's long list of apps and services where ChatGPT can be integrated:
Windows OS (76% market share on desktop and 29% across all devices);
Microsoft 365 (Used by 45% of the 3.8 million companies tracked by Enlyft);
Xbox (World's second-most popular gaming console);
LinkedIn (135m daily active users);
Azure Cloud (Second-biggest cloud service in the world);
Edge (Third-largest web browser).
Having said that, it's also important to assess Alphabet stock's recent collapse with a clearer picture. For all that ChatGPT has to offer, it's also made its fair share of mistakes. After all, its latest integration with Bing is still on trial with only a limited number of template queries available to use. And until its full release, there's no definitive evidence to indicate that ChatGPT has the edge over Bard yet.
Another point that's not being discussed nearly enough are the costs associated with running AI-driven searches. Large language models (LLMs) cost more per search due to the higher processing power required to generate results. In fact,
Morgan Stanley (NYSE:MS)
analyst Brian Nowak mentioned that if AI-powered search queries increased by 10% for Google, its operating costs would rise by as much as $1.2bn, though Google Cloud could help to offset some of the costs.
ChatGPT is integrated into Azure's cloud infrastructure, which should help to offset the rise in costs too. However, Bing yields a much lower rate from advertisements than Google, which could leave the search engine unprofitable. Nadella may be happy to let the ends justify the means, but shareholders may question his long-term plan and whether it's feasible without outrightly destroying capital.
Don't Bet Against Alphabet Yet
Most importantly, Alphabet is still a leading AI conglomerate. Its AI company, Deepmind is able to create algorithms that are capable of learning and making decisions similar to those of human beings, and may be useful in Bard's development. One of its most notable achievements comes in the form of defeating a human champion at the board game, Go, which some deem to be more difficult than chess.
Not only that, doubters are quick to forget Alphabet's biggest ace up its sleeve — its dominance throughout ecosystems and devices. For one, it has a long-standing deal with
Apple (NASDAQ:AAPL)
. The Nasdaq stalwart pays the iPhone maker c.$15bn a year to be the default search engine on more than 2bn active Apple devices. Secondly, Google also has a huge amount of control with Android (71%) and Chrome (65%), the largest mobile operating system and web browser in the world. Additionally, the search giant benefits from over 60% of search queries being made on mobile devices, where the majority of users are on Android. This makes it incredibly difficult for Bing to meaningfully penetrate the market and grow its market share.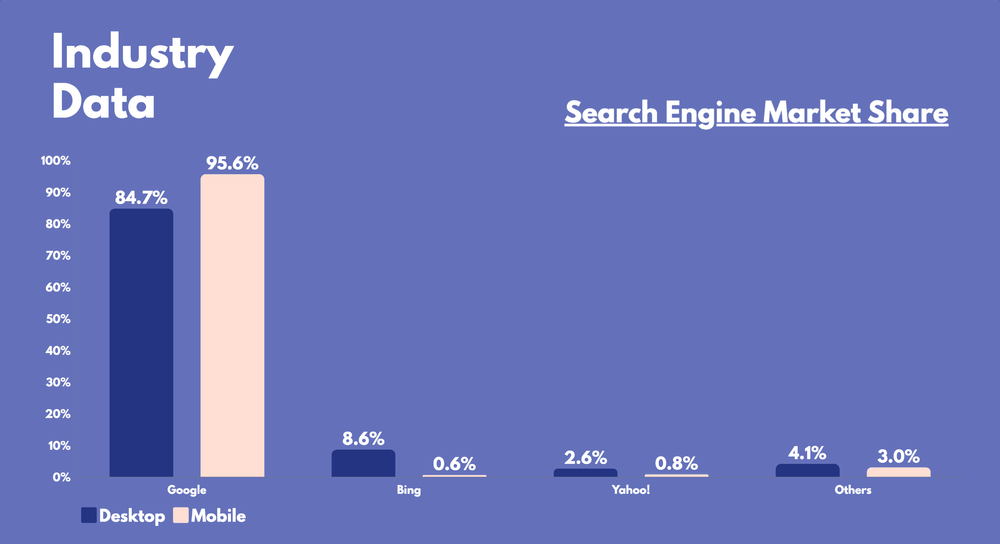 Search engine market share
Ultimately, it's likely that both Alphabet and Microsoft will be battling it out for AI supremacy for the foreseeable future. As such, those who seek to gain exposure to AI stocks with stability and a proven track record may be interested in investing in Alphabet and Microsoft.
For starters, Alphabet has an extremely solid balance sheet. Boasting a debt-to-equity ratio of 5% is far and few between for mega-cap stock. What's more, the organisation is renowned for its large profit margins and huge stock buybacks which enriches shareholder returns.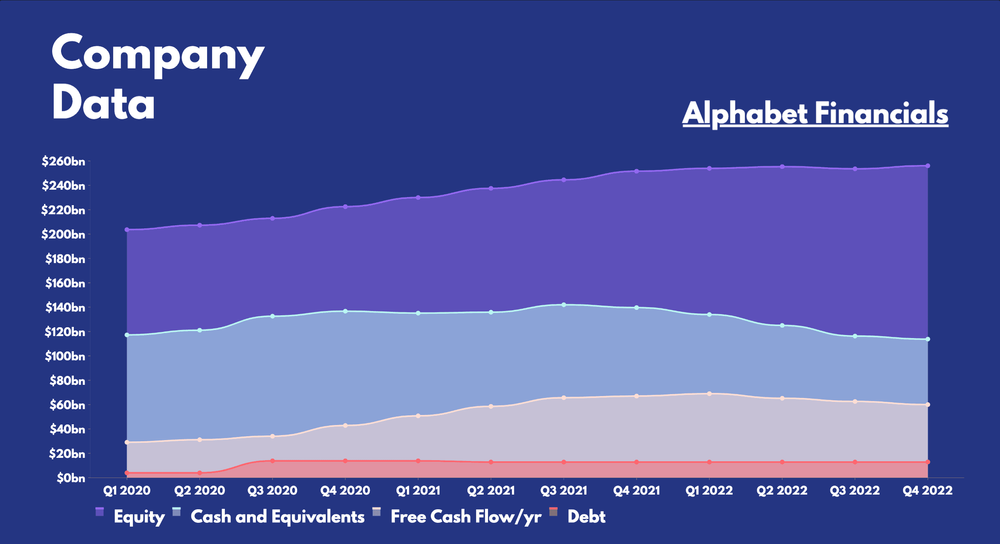 Microsoft has a pretty solid set of financials too. Although not as good as its competitor, decreasing debt levels have seen its debt-to-equity ratio improve over the years to 26%. But where Windows' parent company shines are in its much higher returns on assets (19% vs 17%), equity (40% vs 24%), and capital employed (31% vs 24%) when compared to Alphabet.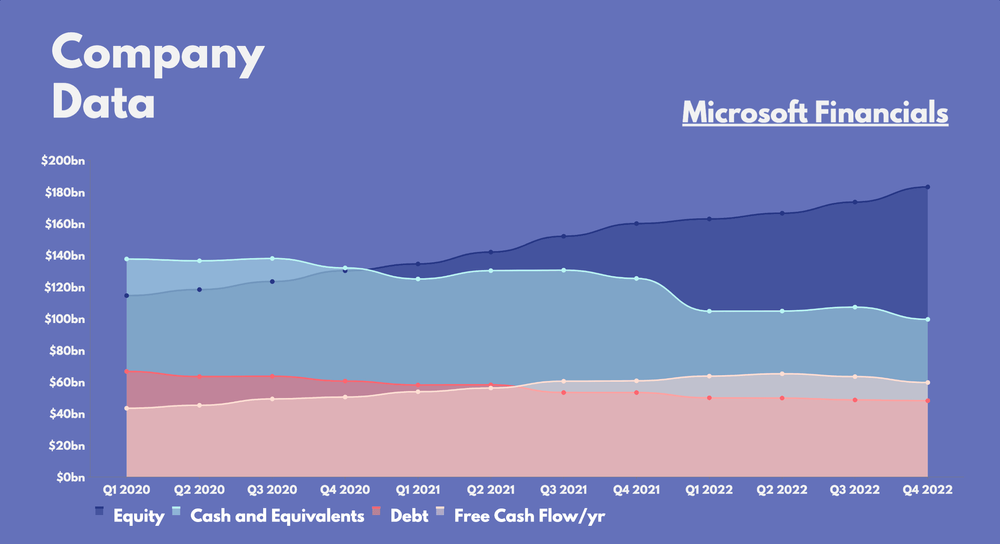 Nevertheless, Alphabet stock's recent drop could be interesting for those who believe in the group's ability to comeback from its recent shortfalls. Trading at 18.5x future earnings, its shares are comparatively cheaper than Microsoft's 29.
In conclusion, there's certainly more to consider when it comes to the future of AI-powered search than just correct answers. While Microsoft has the first-mover advantage, the winner could be determined by various other factors that include speed, capabilities, accuracy, cost effectiveness, and user reach.
The AI wars are just getting started with Microsoft knocking Google down in the first round, but Bing and ChatGPT will need to do much more to keep Google down. As the saying goes, "Don't win the battle and lose the war".
Disclaimer
When investing, please remember that your capital is at risk. Past performance is not an indicator of future success. Terms apply, seek guidance if necessary.
Download the app and start investing now
Scan to download Lightyear