Talking about money has often been a taboo topic. But things are changing, especially when it comes to investing. More and more people are talking, sharing and getting inspiration about investing.
We believe social features make learning about investing more accessible and an easy way to stay connected with friends on your investment journey.
Enter: Lightyear Profiles 🚀
Your Lightyear Profile is your own personal web link, which shows your portfolio holdings (what % each stock makes up of your portfolio), which stocks are sitting on your watchlist and which stocks you recently bought/sold.
You can share with your friends straight from the app, as well as across social networks, to give people an insight into your portfolio.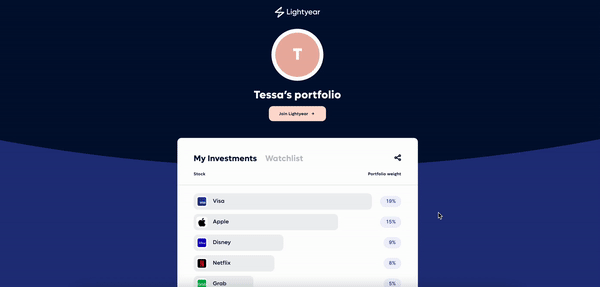 Firstly, we take data privacy seriously, so each of our customers has the option to have their Lightyear Profile set to either public or private. After you update the app, you'll find the toggle in your settings. By default, it's always set to private unless you choose to change it.
Secondly, your portfolio balance, transaction amounts and personal details are never shared on your profile web link.
Other people's Lightyear Profiles do not constitute investment advice, it is their personal investment decisions. If you are unsure about investing, speak to a qualified financial adviser. The value of investments can rise and fall over time and you may get back less than what you started with. Past performance is not a useful guide to future returns, which are never guaranteed.
Download the app and start investing now
Scan to download Lightyear