Cathie Wood is a well-known investor who has gained popularity due to her unique investment style that emphasises investing in disruptive technology. She is the founder and CEO of ARK Invest, a company that specialises in investing in innovative and high-growth companies.
Her main investment strategy is disruptive technology. She believes that companies that are innovating and pushing boundaries in their industries are poised for long-term growth and success. This includes companies in areas such as artificial intelligence, fintech, internet of things, and autonomous vehicles.
Some of her most notable investments include Tesla, Zoom, and Roku. These are her top 3 holdings as of Feb 2023. Let's take a deeper look at each of these.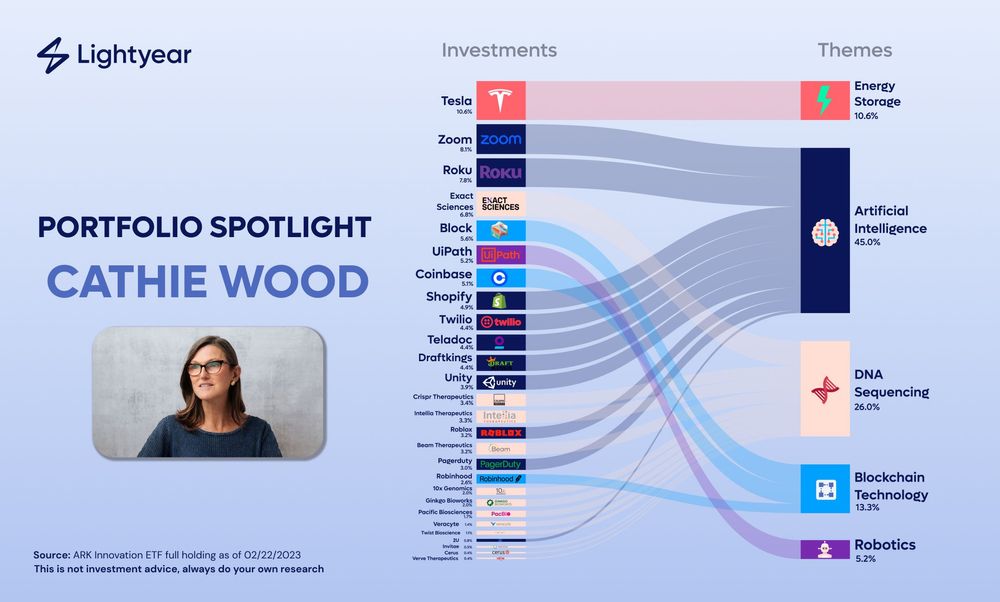 Her investment in Tesla is based on her belief in the company's innovative approach to the automotive industry and its potential to disrupt the traditional gasoline-powered car market. She saw Tesla's electric vehicle technology as a game-changer that could revolutionise the transportation industry, reduce carbon emissions, and create a more sustainable future. Cathie Wood also recognized Tesla's potential beyond just the automotive industry, as the company has been working on battery technology and energy storage solutions that have applications in a variety of industries.
Furthermore, Cathie Wood has been vocal about her bullish stance on Tesla's autonomous driving technology, which she believes has significant growth potential in the coming years. She sees Tesla as more than just an automaker but as a technology company that is at the forefront of innovation and disruption in multiple industries. Despite fluctuations in Tesla's stock price, Cathie Wood has continued to hold a strong position in the company, and her investment in Tesla has paid off handsomely over the years.
Her investment in Zoom was based on her foresight that virtual communication tools would become increasingly important in the modern workplace. She recognized the potential of Zoom's platform early on and believed that it would become a critical tool for remote work and virtual collaboration. With the onset of the COVID-19 pandemic, the demand for Zoom's platform skyrocketed, leading to a significant increase in the company's stock price.
Cathie Wood's investment in Zoom has also been driven by her focus on disruptive technology, as Zoom's platform has disrupted the traditional video conferencing market and forced competitors to adapt. Zoom's easy-to-use interface, innovative features, and reliable performance have made it a go-to tool for remote work, online education, and virtual events. Cathie Wood believes that Zoom has significant growth potential as more companies embrace remote work and virtual collaboration, and as the company expands its platform to include new features like Zoom Phone and Zoom Rooms.
She invested in Roku because of the company's disruptive approach to the traditional television industry. She recognized that the shift towards streaming and on-demand content was rapidly changing the way people consume media and saw Roku's platform as a key player in this transformation. Roku's user-friendly and customizable platform allows viewers to access a wide variety of streaming services and content, making it an attractive alternative to traditional cable TV.
There's also potential in Roku's advertising business, which allows companies to reach a highly engaged audience through targeted advertising on the Roku platform. With the continued growth of streaming and the decline of traditional cable TV, Cathie Wood believes that Roku's platform is well-positioned for long-term growth and success. Since her initial investment in Roku, the company has seen strong financial performance and has expanded its platform to include other devices like smart speakers and soundbars.
Overall, her investment style is focused on identifying innovative companies that are disrupting traditional industries and investing in them for long-term growth. With her focus on themes like fintech, autonomous driving, blockchain, and genomics, she's helping to shape the future, and has become an influential voice in the investment community.
Disclaimer
This is not investment advice. Please always do your own research when investing.
Download the app and start investing now
Scan to download Lightyear