Only available in Estonia, coming soon to rest of EU
Put your company

cash to work
Stocks, funds and up to 4.50% interest earned on uninvested cash.
Earn interest
on uninvested cash
Tried and trusted by
1,000+
companies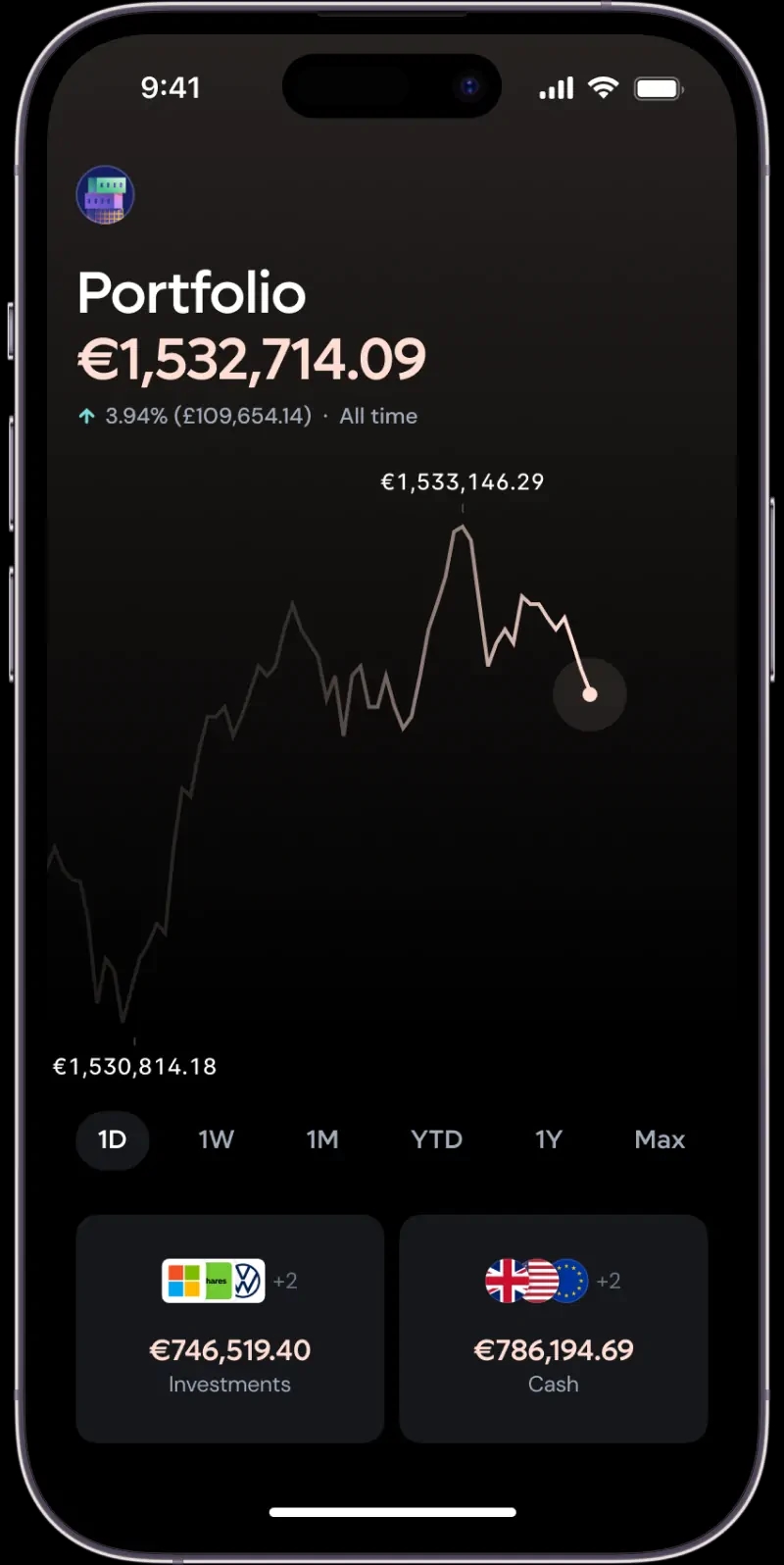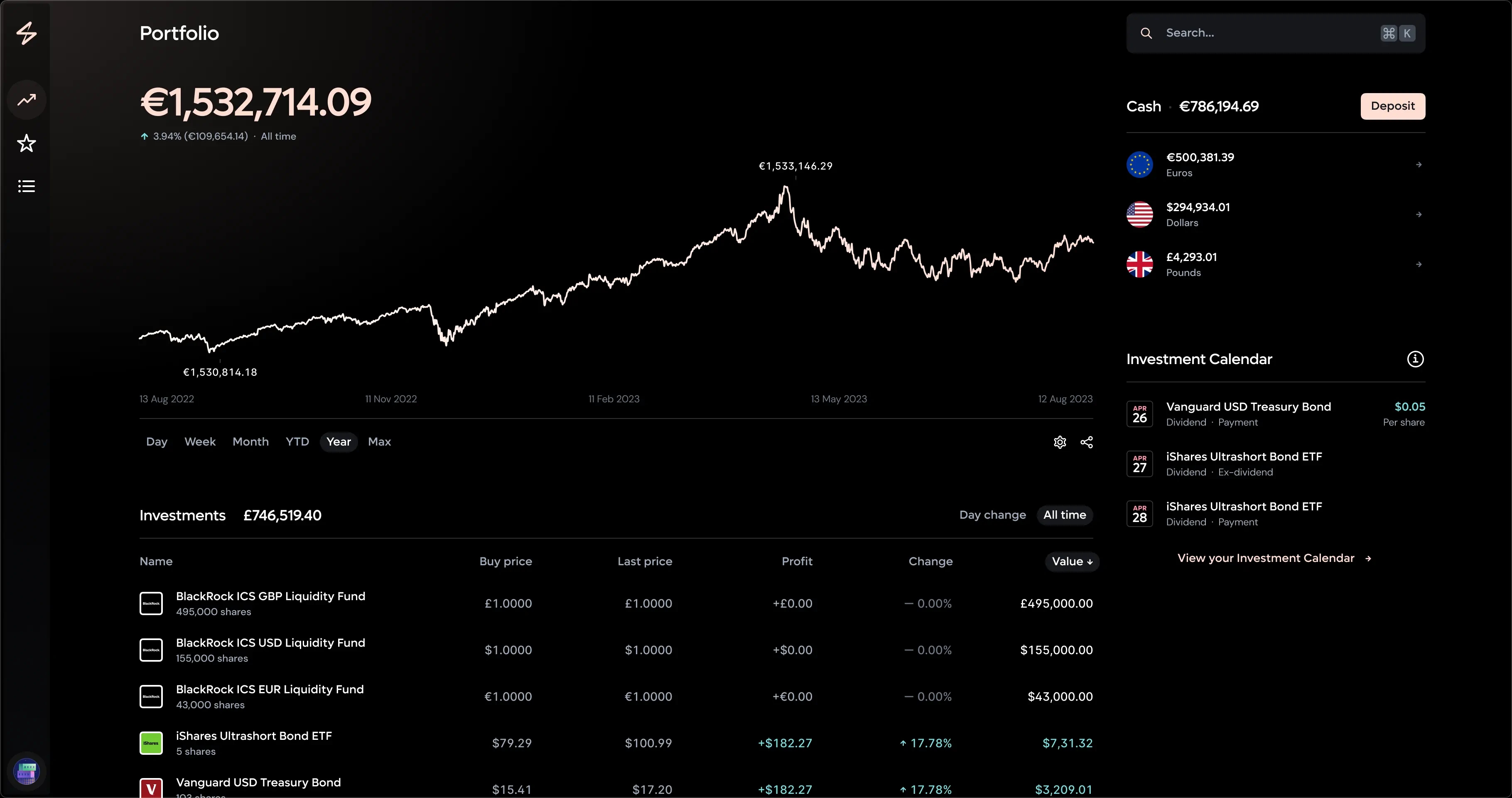 For businesses small and large
From saving on fees to paying you interest, we help you make make the most out of your company funds.
Single owner & Director businesses
Freelancers & sole directors
A business account you can open in minutes. Future-proof your companies finances with an investment account that gives access to the world's markets and interest on uninvested cash.
Treasury management for SMEs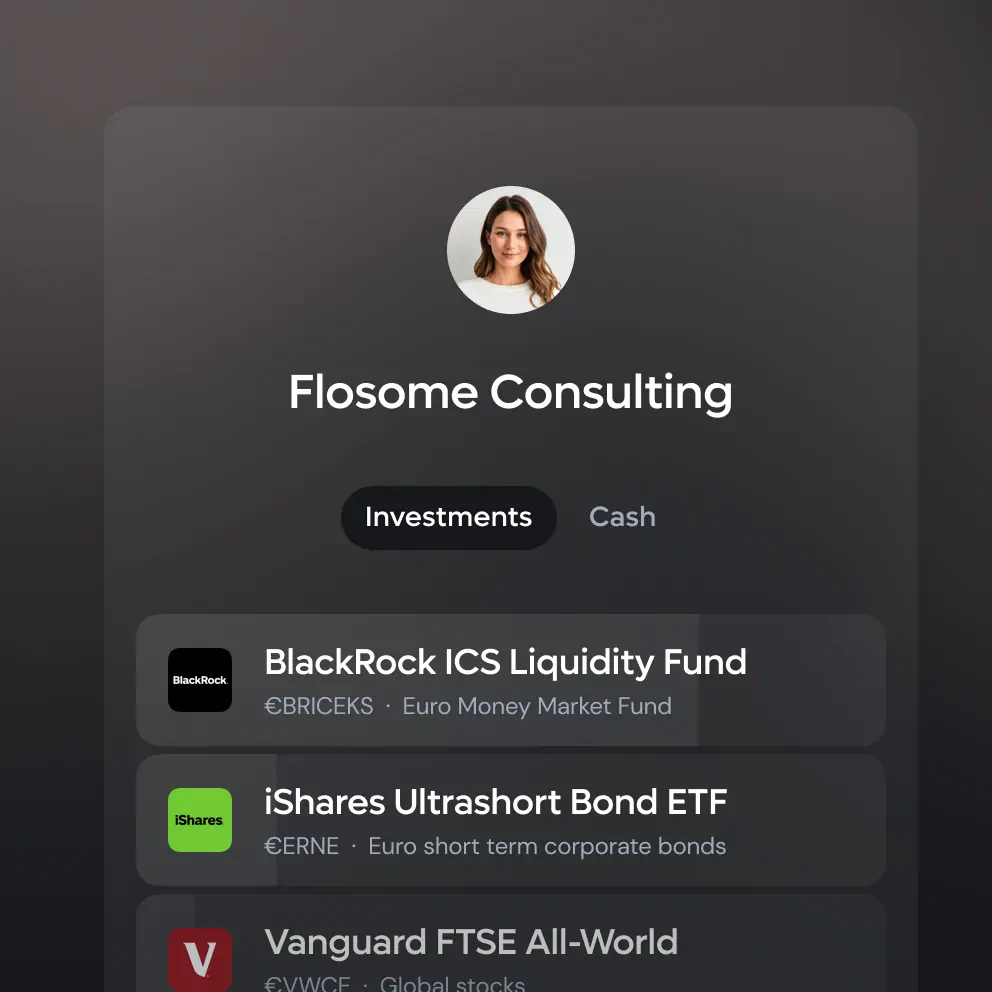 Tools for your business
Managing your company's finances has never been easier. Extend your runway, manage foreign exchange exposure and interest-rate risk.
Money market funds
Interest
3,500+ Stocks and ETFs
LEI registration
Automatic W-8BEN-E
Money Market Funds are low risk, highly liquid and AAA-rated investments that pay interest.
Limitations apply, funds may not be available in your country
Backed by the best
We've raised multiple rounds of finance from leading global investors and business leaders that share our vision for the future of investing.
"For too long, financial markets have been overly complex with high barriers to entry and confusing jargon. Martin, Mihkel and the Lightyear team are lifting the lid on the world of investing – making it more transparent whilst empowering people through education – to choose the products which are right for them".
Sir Richard Branson, Founder of the Virgin Group
"Lightyear is building a platform that customers not only love and trust, but one that understands the nuances between different regulations, languages, exchanges and cultural investing norms."
Nicole Quinn, General Parter at Lightspeed Venture Partners
"With launching business accounts, Lightyear is eliminating huge pain points of long, bureaucratic onboarding as well as limited and expensive access to the global markets for a huge audience — deepening their impact on investing in Europe."
Taavet Hinrikus, Co-Founder of Wise
More about what we're building
Keeping your money safe
Trusting us with your investments is something we do not take for granted.
Multi-country regulation
Government insurance
Safeguarding your assets
Regulated in the UK by the FCA
We're an appointed representative of RiskSave Technologies Ltd, which is authorised and regulated by the Financial Conduct Authority (FRN 775330).
Regulated in the EU by EFSA
We're authorised and regulated by the Estonian Financial Supervision Authority (4.1-1/31) and authorised to operate across the European Union.
Things you'll want to know
Questions we're often asked
Who can open a business account?
Business accounts are here for Estonian private limited companies (OÜ or osaühing) with both single and multiple beneficiaries. These accounts are available for certain low-risk industries. Please see the document "List of high-risk industries" in our Legal documents, which describe the industries we currently do not onboard.
The person opening the account must reside in a country in which Lightyear is already available for personal accounts (see "What services do you offer and in which country?"). Right now, the current director of the business has to be the one opening the Lightyear account and only one user can access a company's business account. If you have more than one business, you can open multiple business accounts with us
How do I open a business account?
It's super quick and easy to open up a business account.
All you need to have at hand is your LEI code. If you don't have an LEI code yet, you can generate one right in the Lightyear app.
Just jump into the app, navigate to your profile from the top left corner, and you're there. If you don't currently have a personal account with Lightyear, you'll need to set that up first.
How much does it cost to open a business account?
It's free to open up a business account! We also don't charge any custody or monthly fees.
Investing through a business is low-cost and priced just like investing from your personal account. We also pay interest on uninvested cash for businesses too.
Check out our full pricing information here.
Can I claim US tax treaty benefits?
You can claim US tax treaty benefits, but it's optional. Uploading a W-8BEN-E allows you to reduce the tax you pay on dividends from US instruments, but there's no benefit to that if you:
Invest in non-US instruments
Invest in non dividend paying US stocks
Hold & convert cash
We fill in the W-8BEN-E form for you automatically. All you need to do is answer a few questions in the app, and we'll generate the PDF form for you right there.
Why do I need a Legal Entity Identifier (LEI)?
A Legal Entity Identifier, also known as an LEI, uniquely identifies your business. It's required by law for businesses trading stocks in Europe.
If you've already registered an LEI — we'll find it for you during onboarding, all you need to do is confirm the details.
If you don't yet have an LEI, you can generate one within the Lightyear app for €45 + VAT.
Visit our Help Centre