Help and support
Pick a topic to find an article or talk to our team
What's your question about?
FAQs
Everything about withdrawals
How to withdraw funds in the app?
Simply tap on the "Withdraw" button in the corresponding currency account. If you've already made a bank transfer into your Lightyear account, your bank account is saved to your profile and you can withdraw without any extra steps. In case you've deposited using Apple/Google Pay or Debit card options, we don't have your bank account details yet, so keep them at hand and the app will guide you through how to add them.
Can I send my funds to someone else's account?
No, we only send your (or your business') funds to a bank account in the name of the Lightyear account holder.
How long can a withdrawal take?
Once requested, withdrawals may take up to 2 days to be processed before being sent out to your requested bank account. Transfer times depends on the payout method and once initiated cannot be cancelled. For GBP, EUR, and HUF, your funds should typically arrive within the same banking day. For USD, your funds should typically arrive within 2 banking days after processing.
Can I withdraw the USD I have on my USD account?
USD withdrawals are available to local US bank details. Should you wish to withdraw USD to a US bank account, please contact our Support team below and include a document issued by your bank that includes your name as the account holder as well as the ACH routing number and account number. If you don't have a local US bank account, you need to convert your funds to your local currency (GBP, EUR, or HUF), which will have a FX fee of 0.35%, before placing a withdrawal request. (See "Fees and taxes").
Deposited from a Wise account and want to withdraw to it?
At this time, we are unable to verify Wise balance account details in any currency even after successfully receiving a deposit. Should you wish to withdraw to Wise account details, please contact our Support team below and include the "proof of account details" document (Hungarian: számlaadatokat igazoló dokumentum) issued by Wise for the respective currency in PDF format. Please note that we cannot accept screenshots, and will only add Wise account balances as recipients once you've made a successful deposit from it in the past.
Why won't my withdrawal work?
I you don't have your bank account in the currency you're trying to withdraw connected to your Lightyear account, you'd need to add it first by making a deposit or if offered, tapping on "Create bank account" when withdrawing
You're attempting to withdraw USD
You don't have any funds in that currency but open positions only
Promotional/referral reward can only be withdrawn 30 days after having received it. See Lightyear Sign-up Promotion Terms and Lightyear Refer a Friend Terms
Our approach to fees is simple. We believe in:
Radical transparency: We'll always be upfront with any associated charges. We also want to ensure that we charge the smallest amount possible fairly, so if you place an order where the fees will account for 5% or more of its total value, you'll be presented with a pop-up in the Lightyear app for you to confirm this.
Honest pricing: Our fees are a combination of covering the costs associated with the service plus a small amount on top that we can reinvest to improve the business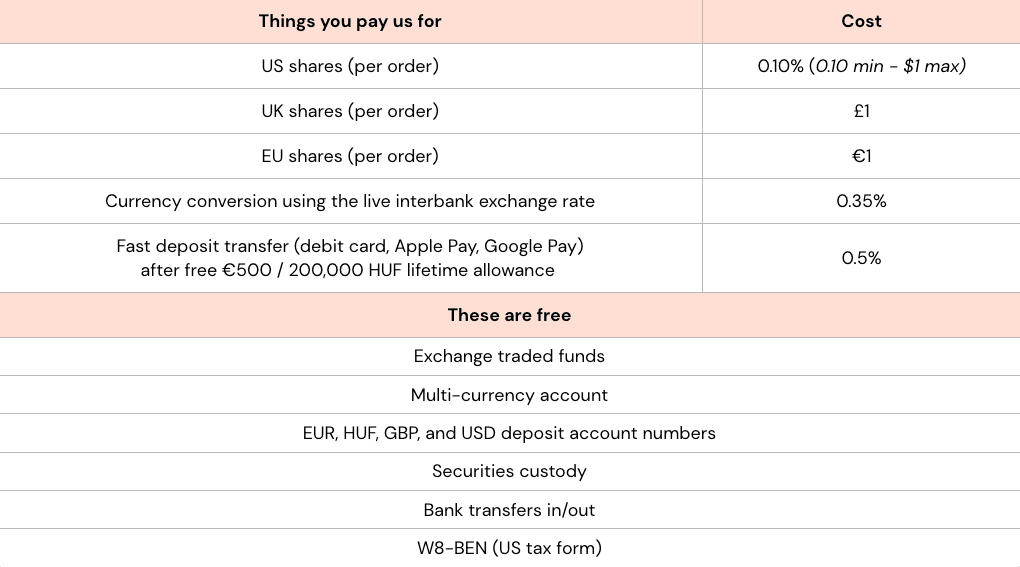 Financial Transaction Tax
A financial transaction tax (FTT) is when a percentage of the asset's value is paid in taxes when traded. FTTs usually apply only to select financial instruments and often have varying tax rates depending on the asset type.
Stamp duty
Stamp duty is the tax governments place on legal documents, usually in the transfer of assets or property.
These taxes apply to anyone who is trading the applicable asset, irrespective of if you are a tax resident of that jurisdiction or not.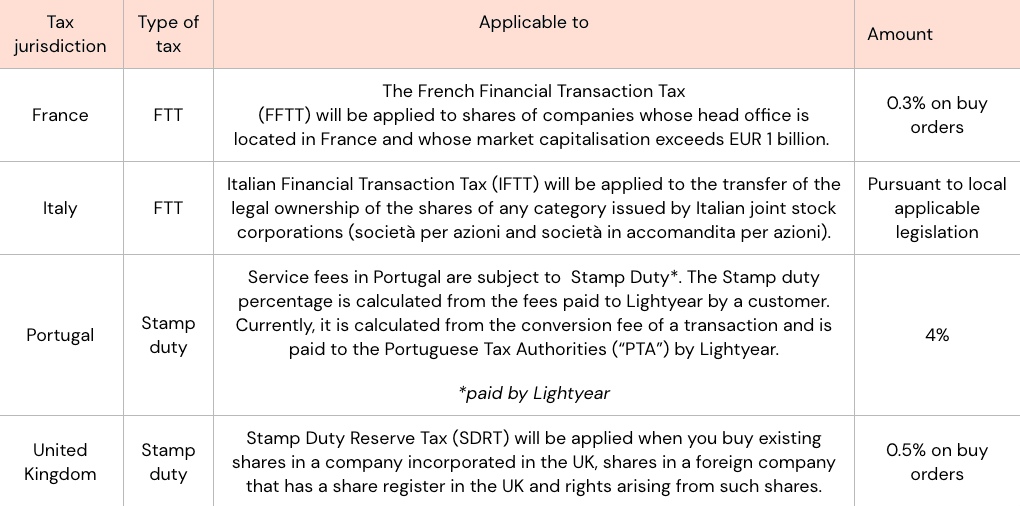 How are my assets protected?
NB! The protections mentioned in this article do not cover poor investment performance. It's important to always remember that markets may go up or down, so you should never invest more than you can afford to lose.
Trusting us with your investments is not something we take for granted. Lightyear Europe AS is a licenced investment firm and as such is bound by strict regulatory obligations in how we handle and protect your assets. We do this via a process known as safeguarding.
Safeguarding means that, by law:
Uninvested customer funds are stored separately from our business funds with regulated EU credit institutions and highest rated money market funds. The primary institutions where we hold uninvested customer funds are ABN AMRO Bank in the Netherlands and AS LHV Pank in Estonia, and in BlackRock money market funds rated AAA/mmf by Moody's, S&P and Fitch.
Invested assets are held with authorised custodians, which you can read more about in our "Who is the owner of the securities I buy?" help article.
All customers assets are inaccessible by our creditors and they would be returned to customers in the unlikely event of Lightyears insolvency.
Are Lightyear customers covered by EU wide asset guarantee schemes?
Yes, all Lightyear customers have their assets covered up to the amount of 20,000 EUR by the Estonian Investor Protection Sectoral Fund. Read more about this fund here.
Am I covered by the Securities Investor Protection Corporation (SIPC) protection in the US?
Your US securities are held with our partner Alpaca, who is FINRA regulated and is a registered member of the Securities Investor Protection Corporation (SIPC). This means your US securities are protected up to the value of $500,000 should Alpaca fail. You can read more about this directly on the SIPC website.
What is a money market fund?
Money Market funds (MMFs) are a type of mutual fund that invests only in highly liquid, short-term debt from the likes of governments and financial institutions. These funds offer high liquidity with a very low level of risk and EU/UK regulations allow for brokerages to hold customer money in them. In addition to offering protection via diversification, MMFs provide a return which we pass on to customers in the form of interest payments on uninvested cash you hold in your Lightyear account.
To opt-out from keeping your money in a MMF, you can opt-out of interest in the app.
You can hold uninvested money on your multi-currency account that can also earn interest.
Like most brokers, Lightyear earns interest on the cash it holds on your behalf in institutional bank accounts that are designed for financial firms to hold their customers' money, as well as from holding your money in MMFs. Lightyear gets paid interest for holding customers money and at a rate typically not available to retail customers. We have decided to pay this forward to you transparently.
The amount of interest earned is based on the current per annum (per year) base interest rate — from which we'll take a transparent 0.75% cut. See our pricing page for the current interest rates.
Calculation and payment
You'll start earning interest daily, on the same day as your deposit hits your Lightyear account.
We calculate the unpaid interest daily on the available uninvested cash balance of your investment account to five decimal places using the latest Lightyear rate. We then sum and round the unpaid interest amounts to two decimal places. Interest payments will be credited to your Lightyear account on the first of every month, and you can see the interest that you have been paid in the latest version of the Lightyear app and in your statements.
Money that's been reserved for orders or other reasons does not accrue interest, and if you close your account before the next interest payment date, it won't be paid out.
Taxes
For Estonian personal account customers, we automatically withhold your tax and pass it on to the Estonian Tax and Customs Board. If you live elsewhere, please note that you are responsible for the appropriate tax reporting and payments, in accordance with your local tax laws. You can opt-out from earning interest by navigating to "Earn Interest" under the Settings page, which will cause any unpaid interest to be forfeited.
Protection
Earning interest on your uninvested money does not change the way your money is segregated or safeguarded. We always hold our customers' uninvested money in segregated client money accounts in regulated EU credit institutions and highest rated* money market funds, which you can read more about in our article "How are my assets protected?".
It is important to note that the funds held in your Lightyear account are not equivalent to a bank deposit, and therefore in the unlikely event that all appropriate safeguards fail, funds are ultimately protected by the Investor Protection Sectoral Fund only for amounts up to 20,000 EUR in total across all your multi-currency account balances. Funds are not covered by the Deposit Guarantee Sectoral Fund, as it only covers bank deposits.
*rated AAA/mmf by Moody's, S&P and Fitch
Lightyear is a simple and approachable way to invest your money globally without unnecessary barriers or fees. We make investing approachable with a simple and easy to use app.
What problems are you solving?
Expensive and opaque fee structures: Traditional players often have hidden and high cost fees
Limited access to markets: Local brokers often offer bad access to global markets
Limited information and education: Typically lacking or hard to understand
We're at the beginning of our journey and haven't solved the entire problem just yet, but believe that we're already Lightyears ahead of the incumbents.
What do you offer?
We give you access to:
A multi-currency account to deposit, hold and convert across three different currencies. Find out more by reading the "How does your multi-currency account work?" article here.
Access to over 3500 international stocks and ETFs. This list is continually growing.
Our mission does not stop there as we also believe in helping you become a better investor. To do this, we're building bespoke tools that are tailored to your needs, no matter if you're at the beginning of your investment journey or a seasoned expert.
In the app you'll find:
Custom charts
Instrument fundamentals
Analyst ratings & price targets
Financials, news and more
We're passionate about continuously evolving and ensuring you have the best tools available at your fingertips. Our services vary depending on where you are based. To find out exactly what you'll have access to, check out our offered services article.
How much does it cost?
Visit our "Fees and taxes" article for more on the cost of using Lightyear.
What services do you offer and in which country?
You have to be 18+ and an eligible person currently residing in the United Kingdom or select European countries to use our service today. We're working hard on increasing this eligibility. Read more about what you'll need to sign up here.
If you are a citizen or tax resident of the United States, we unfortunately can't offer you our products or services just yet.
Products or services available to you vary depending on where you reside, see the below: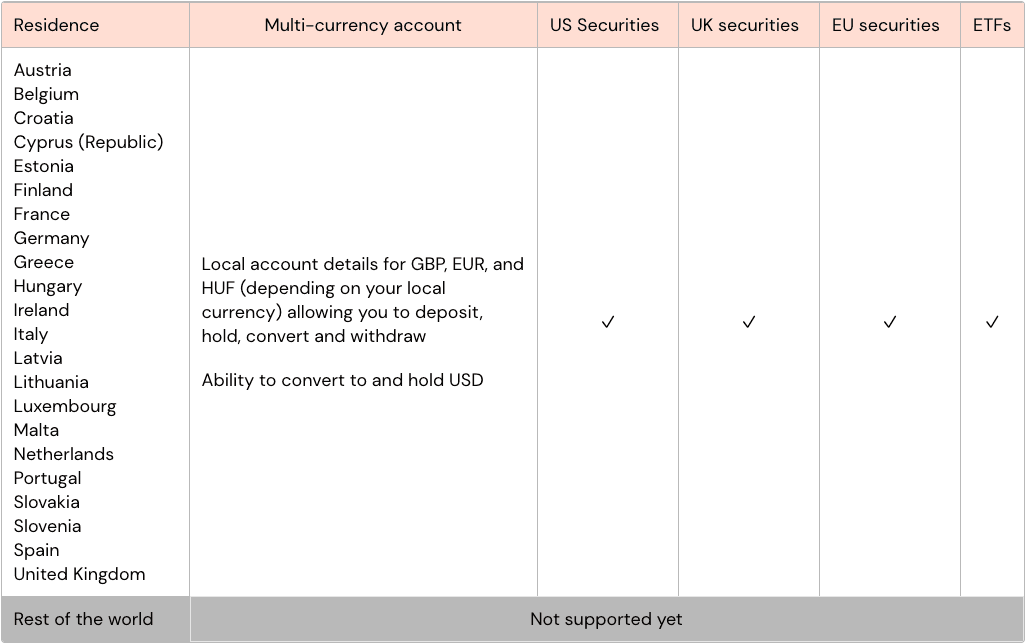 We unfortunately can't offer you our services If you reside outside of the UK or the above listed EU countries but, fear not, we're working hard on expanding.