When you're investing as an individual, it can sometimes feel pretty unfair that professional investors at big banks and investment firms have access to loads of data, which is then all being number-crunched and fed to them by stock analysts. Well, not any more.
Our new analyst ratings feature sums up the sentiment of a stock by aggregating the buy, hold and sell recommendations that are put out by the Wall Street analysts. We also show analysts 12 month price targets for a stock.
These ratings and price targets are opinions on the stock's future performance based on independent analysis on the company. This is calculated by analysts by looking at things like the company's financials (e.g. sales, profit), projected earnings and industry trends.
Analyst ratings can be a useful data point as part of carrying out your own research when making your investment decisions. We've also made the historic ratings available to you, so you're able to see how sentiment for this stock has changed over time.
Head over to your favourite stock's page and check it out!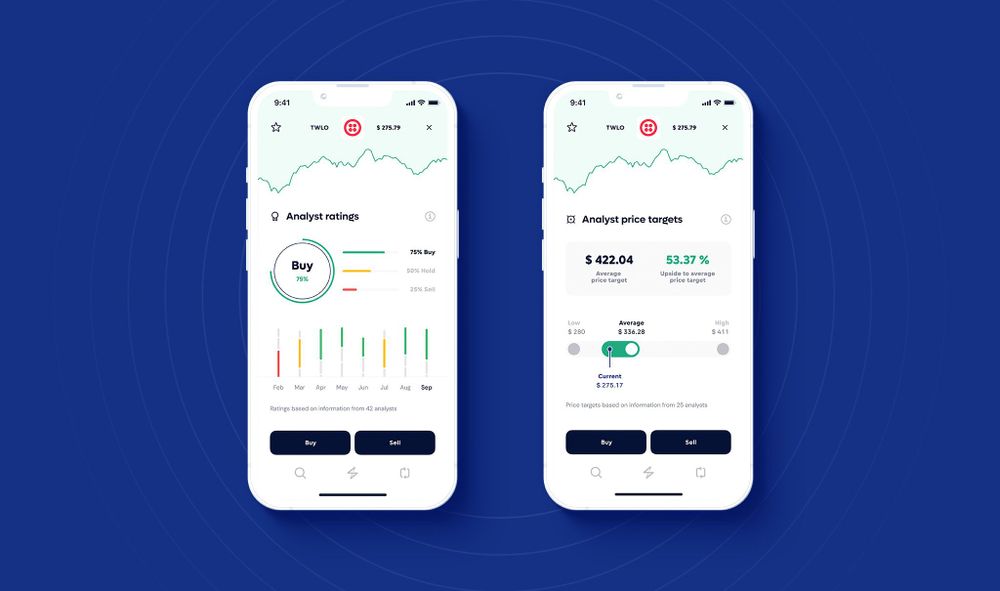 Analyst ratings and price targets
Who are analysts & what do they do?
They are employed by brokerage houses (for example Goldman Sachs or JPMorgan) to analyse companies and write in-depth reports after conducting their own independent research. This research is then sold to the brokerage's clients.
Writing these types of reports is a really time-consuming process. Information for their research is obtained by reading the company's filings, meeting with its management, and if possible, talking with both suppliers and customers.
It also entails analysing the company's publicly traded peers (competitors or others operating in the same sector) to better understand the differences in that company's financial results and stock valuations. This approach is called fundamental analysis.
Analysts are continually monitoring the companies they give ratings and 12 month price targets on and update the stock's rating or price target if there is a change in the outlook of the company based on their analysis. Lightyear updates the analyst ratings and price targets feature on a daily basis to ensure you're getting the latest information available.
Disclaimer
Our source for these Analyst Ratings and Price Targets is Refinitiv. As with all investing, you may get back less than you put in. Your capital is at risk. Be sure to conduct your own research on assets that you wish to invest in. Lightyear does not carry out any investment research themselves and has no influence on the ratings. Lightyear does not provide investment advice. If you are unsure about anything, please seek financial advice from an authorised advisor.
Download the app and start investing now
Scan to download Lightyear