What are Money Market Funds?
A Money Market Fund (MMF) is a type of mutual fund that invests in short-term instruments, cash and cash equivalents — and is required to maintain a high level of liquidity. The yield you earn on MMFs is variable and changes daily.
The underlying assets in MMFs change together with base interest rates, offering higher returns in a high interest environment. This means they've become increasingly attractive for investors lately, with no end in sight for continuous rate hikes. At the same time, holdings have short maturity, keeping MMFs' short-term interest rate risk low.
The funds aim to maintain a net asset value of $ / € / £ 1 per share. Any excess earnings - generated through interest on the portfolio holdings - are accrued daily and paid to your Lightyear account as dividend payments on the first of every month.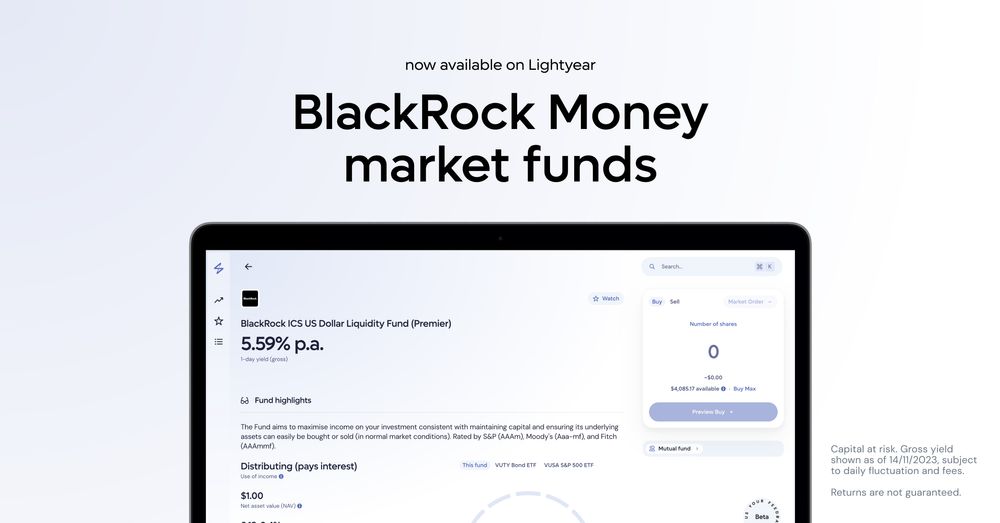 BlackRock Money Market Funds (MMFs) on Lightyear
Low & transparent fees, without a sky-high barrier to entry
Investing in BlackRock MMFs through Lightyear is a game changer for investors across Europe, for whom access to benefitting from high interest rates has historically been closed off. Traditionally, Money Market Funds have had a £1m minimum buy in (1), not to mention sky-high fees charged by asset managers.
We don't charge custody fees for holding your investments. And, if you invest in an MMF in a currency you hold on Lightyear, there are no conversion fees either. Like other assets in Lightyear, MMFs come with low, transparent pricing - Lightyear fees stand between 0.09% and 0.3%, plus a 0.10% BlackRock fee - and no high barrier to entry. Check out our full pricing
here
.
Three funds, in three currencies
You have access to three BlackRock Liquidity Funds, in USD, GBP & EUR:
All BlackRock funds we offer are AAA rated - the highest rating possible. The underlying assets of these funds have a very high level of capital security.
Money market funds are publicly available for both retail and business users in the UK; and for retail investors in the Netherlands, Germany, Spain, France, Finland, Italy, Austria and Luxembourg.
Disclaimer
Gross yield shown as of 14/11/2023, subject to daily fluctuation and fees.
Capital at risk, returns not guaranteed. Refer to the funds' prospectuses and the Key (Investor) Information Document before making investment decisions. Both can be accessed on Lightyear's web and mobile apps and the fund manager's website.