We've been giving retail investors across Europe access to 3,500+ stocks, funds and up to 4.5% interest in uninvested cash for a while now. In an exciting development for the UK market, this now extends to sole directors and entrepreneurs.
In 2022, the
Federation of Small Businesses estimated
that the UK was home to 5.5M private sector businesses; 4.1M of which had no employees. This is a huge piece of the UK economy that was being overlooked and underserved by banks and investment platforms out there.
Business accounts with high street banks are hard to get, and they tend to pay out little-to-no interest. Freelancers and sole director businesses in particular rarely get access to these, and most of them have to go through a long process to get the same type of access they enjoy as a retail customer.
With another interest rate hike on the horizon, there's never been a better time to launch business accounts on Lightyear. We're here to help freelancers and sole director companies make the most of their company funds, ensuring that excess corporate cash isn't eaten up by inflation while sitting in bank current accounts.
From today, Lightyear's business investment accounts will empower UK SME owners to start getting:
Access to over 3,500 international stocks & funds
A multi-currency account for GBP, USD & EUR
Up to 4.5% interest (as of August 30th, 2023) on uninvested cash
Access to BlackRock Money Market Funds (read more about those here)
Advanced market data, tools & analytics - without the fancy subscription fees
All that, but with fair and transparent pricing too? We promise, it's not too good to be true. You can read more about how and where you pay fees on Lightyear here on our Pricing Page.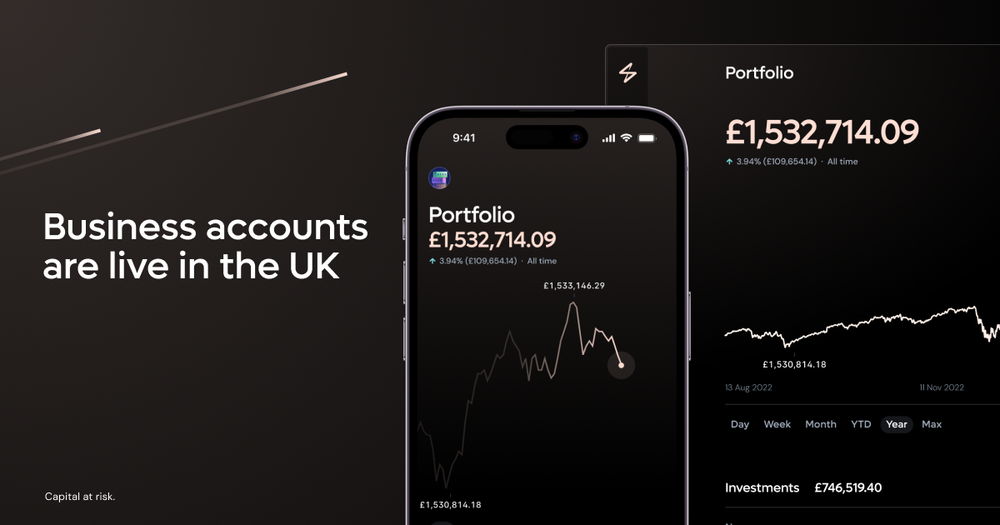 Taavet Hinrikus, Co-Founder of Wise and startup investor says
: "Businesses in the UK need to make sure their cash is not draining its value against inflation, but they currently don't have enough options to do this. Lightyear's new business accounts enable freelancers to earn interest and invest their otherwise stagnant cash, and access to BlackRock MMFs introduces these entrepreneurs to a whole new area of investing, previously reserved for larger corporates."
Martin Sokk, Co-founder and CEO at Lightyear, adds:
"The retail investment market has come a long way in the last ten years or so. Don't get me wrong – it still has problems (which Lightyear is trying to solve) but the business market is miles behind. In fact, for the UK's 'solopreneurs', it basically doesn't exist. So, I'm particularly excited about today's launch of our business investment accounts and MMFs; we're helping businesses actually benefit from the increasing interest rates – something which they just can't do with banks."
Whilst sole directors are the largest and most underserved segment of the market, access to investment accounts isn't just an isolated problem for them; the broader business investment account market in the UK is in need of a shake up. We'll be looking to open up our business offering to all types of SMEs and larger startups over the coming months.
Disclaimer
Making sure your money is working hard for you and your business is important, but please take care with it too. Don't invest money that you need to operate the business day-to-day, and always make sure you have operational cash in an FSCS protected account.
We're here to help you invest and grow any excess business capital you have, but remember that capital is still at risk when it's invested.